Hello to you all!
We hope that you are all safe and well and have had time in your gardens enjoying this lovely weather. What an amazing response we have had from our new Home Learning activities.  Your teachers have really enjoyed reading all the letters they have received and your imaginative ideas for the A to Z plates have really impressed us all.  Well done to everyone who has taken part and shared your work with us.
This week's home learning will go live on Monday morning on the Curriculum pages of our website – http://wilton.teesvalleyeducation.co.uk/curriculum/. We have changed a couple of things to make sure the teachers receive the right work and are able to reply to you as quickly as possible. As we did last week, we will have copies of the home learning packs available from 9-12 on Monday morning.
Also, don't forget daily reading and regularly logging into Spelling Shed, PiXL and Times Tables Rockstars.
BBC Bitesize…
You may have seen BBC Bitesize now release 3 new lessons for every year group each week day during lockdown. For those who would like some more activities to do they can access the whole week of lessons using the link below. Choose your child's year group and try some fantastic learning activities. Every Friday there are fun maths challenges and there are also useful wellbeing lessons.
https://www.bbc.co.uk/bitesize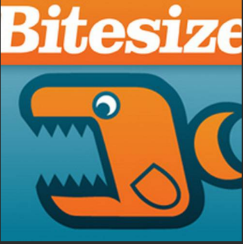 Food Vouchers
For parents who are eligible, your government food vouchers should also be coming through now.  If anyone is still having any issues, please contact the academy.
NSPCC Links…
There are further articles on the NSPCC website around
How to support children at home during this challenging time
Worries that children may have and have shared with Childline around Coronavirus
Support for parents around how to keep children safe online
Keeping Children safe
https://www.nspcc.org.uk/keeping-children-safe/support-for-parents/coronavirus-parents-working-from-home/?_t_id=fQNyEPQR-FDN-Q1Av7oz8Q%3d%3d&_t_uuid=rni5-LbaT66htC32r-gZtg&_t_q=support+for+parents+and+carers&_t_tags=language%3aen%2csiteid%3a7f1b9313-bf5e-4415-abf6-aaf87298c667%2candquerymatch&_t_hit.id=Nspcc_Web_Models_Pages_StandardPage/_9bdd8fa3-1578-40fc-a3f9-432ab2014269_en-GB&_t_hit.pos=7
More Online Safety Support…
Further online safety support can be found from the Association of Adult and Child Online Safety Specialists:
Further age related online safety resources have been updated by CEOP:
https://www.thinkuknow.co.uk/parents/Support-tools/home-activity-worksheets/
School Nurse Service
Daisy Chain Telephone Support Service…
Daisy Chain have a new telephone service available to offer support for young people, families and adults with ASD, ADHD and sensory differences. They have been providing a variety of support from advocating for adults, creating personalised packages of support including visuals and social stories for families, well-being check ins and supporting parents/carers to understand and manage their child's needs.
Further details can be found from this short video: https://www.youtube.com/watch?v=1SPkPCyW4kw&feature=youtu.be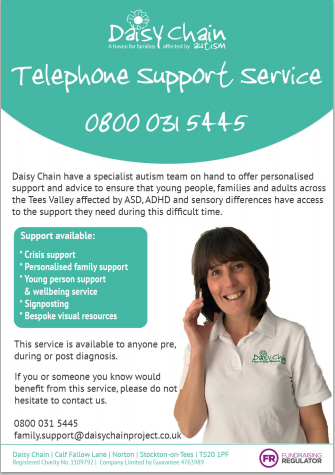 Support for Year 6 children…
The Trust have been working with a company called Kooth who offer support for Year 6 children, they explain that there are free online counselling and support services for children 11 years and older. There is a particular focus on preparing them for transition to secondary school and the lead up to SATs. This is a service that families can sign up to if their children require health and wellbeing support and is particularly relevant at the moment.
Details of the service are available to download at the bottom of this post.
Cultural Capital
Just a reminder that every Monday, Wednesday and Friday a new set of resources for learning about issues and opportunities in the Tees Valley is published on the Spark Tees Valley website. This helps to raise aspirations and awareness of the world of work in the Tees Valley and teaches us lots about our local area.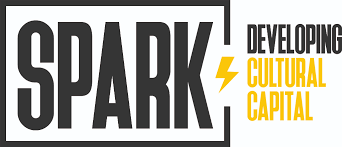 Click on the link: https://sparkteesvalley.com/2020/03/23/tees-valley-home-study-resources/
We hope that you all have a lovely weekend and everyone stays safe. Please keep your photos and examples of work coming in!
We look forward to keeping in touch through our Facebook page and this website.
Thank you.